Top STEM Websites To Excite Kids About Tech And Engineering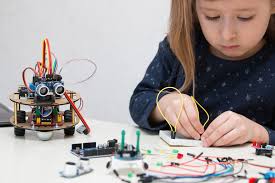 For those who are not familiar with the term, STEM is an acronym for Science, Technology, Engineering and Math. With STEM jobs on the rise, there is uncertainty around whether there will be enough qualified personnel in the future.
With variety of interesting websites kids can learn from, we picked the best ones. But who is to say whether or not they inspire any interest from kids at all? Kids, of course!
We approached 12-year old Maker Katie. Katie builds amazing stuff with Red Pitaya and we sure value her opinion, so we asked her to share one about where she learns and gets new ideas from.
Katie: This is an amazing beginners website or for anyone who wants to learn more about interesting facts. Things you might not think to ask about. I also love how you can send in your own questions.
Katie: When I was in elementary school we used this website to do the hour of code challenge and that was fun. It is also cool that they have courses that you can take to get started with coding.
Katie: This is an educational site about engineering. I love the interactive page where you can click on what you want to learn about. Also having the separate categories inside of each topic is appealing because it is not just a block of text.
Katie: It is really cool that this website has instructions and material lists for hands on activities that could be done at school, home, or elsewhere.
Katie: This is a very interesting website to research facts about almost anything. It answers questions like what would happen if we ran out of helium, and other perplexing questions.
Katie: The games on this website are very fun. It also has some great videos that you can watch and activities that you can complete.
Katie: I like the tonights sky part the best, because you can see what is happening right now above your head in the sky. Last summer I was lucky enough to get into the Women@NASA Girls & Boys Mentoring program, and got to do several activities with my NASA Engineer Mentor over FaceTime/Skype.
Katie: This is a resource with articles and videos covering all aspects of science, space, technology, and nature. This is a great place to learn more about any topic, the articles and videos explain things very clearly in a way that is very easy to understand.
Katie: This website is awesome because it can deliver science kits right to your door! It also provides project ideas and activities. It is great how they can suggest project ideas by you answering questions about your interests.
Katie: This is a website that has lots of videos answering all of your questions and addressing myths. It has videos on many interesting topics that you may not have ever really thought about.
Katie: there are many STEM related articles to read, things to do, places to go, and cool jobs to explore. This is perfect if you want to see what people are doing in the real world to make a difference.
Katie: When you first open this website it asks you which is the most appealing to you. Code, Game Design, or Graphic Design. When you chose, it takes you on a path about that topic. It also has featured subjects like Minecraft and Hour of Code.
Katie: This website has paid courses but there are a few free programming courses. We also used this website at school for hour of code when I was in elementary school.
Katie: This is another site I've used a lot, mostly the math section but also some of the coding and science. It has good clear videos explaining stuff, and lots of ways to test your knowledge and learning with interactive tests.
Katie: This is website and an App for young mathematicians, scientists and engineers. It is a collaborative site where people can ask questions, learn, and help others learn.
Already have an idea for a project?
Subscribe to our newsletter
Related Posts
Welcome to the first Red Pitaya Project Guide. We will create interesting and fun projects and share them with you. EMC or electromagnetic compatibility is equipment's property...
The lock-in amplifier (LIA) is an invaluable tool in scientific instrumentation , allowing the extraction of weak signals from noisy backgrounds, even where the amplitude of the...