5 Ways To Encourage Girls For STEM Fields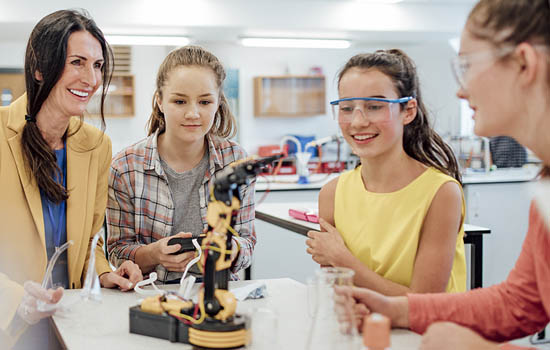 Usually the first thing girls interested in STEM fields notice is that it is a male dominated world. It is probably because of how we raise our kids, depending on their gender. Well, we don't believe in gendered childhoods. We don't want to see girls stop pursuing their passion, and their dreams only because the field is considered to be "a boy's thing."
Just think about it. Steve Jobs, Bill Gates, Thomas Edison… There just aren't any female role models. Thankfully, nowadays there are plenty opportunities popping up to level the gender inequality. Through their programs and initiatives, organizations create environments that integrate, embrace and allow girls to be comfortable enough to reach their potential. It all sets grounds for closing the gap and to bring future opportunities for girls to discover the world of scientific, and technological innovation etc.
1. Enter the Maker Movement
Every true life passion starts out as a hobby or a great interest in doing or making things that fulfill our needs. Participants, or "makers," take advantage of inexpensive, powerful, easy-to-use tools such as 3D printers, microcontrollers and laser cutters to create physical objects. Making stuff is a good activity to engage and interest more women in STEM, and to increase the 'well' of people for the STEM pipeline.
2. Choose a Mentor
Teaming with a mentor can do wonders for building a young girl's confidence. A mentor is not only someone willing to spend time teaching techniques and processes, but also someone who takes an interest in long-term advancement. The value of mentorship is often reflected in the great support it offers and in the leadership towards reaching career goals. Building up a career strategy with a mentor can lead young people toward success and career satisfaction.
Create excitement with Red Pitaya!
3. Visit One of the Maker Faire Exhibits for Girls
Maker Faires are certainly a great opportunity for girls to get familiar with STEM. It features workshops, exhibits and a whole lot of other attractions to help young girls find their passion. There are even fair exhibits that are geared specifically towards girls, for example:
– Vidcode
4. Encourage Participation in Special Programs
From government programs, such as Woman@Nasa, to in and out-school workshops. Nowadays, there are plenty of local and national programs and workshops sprouting around. With an understanding of young women interested in STEM, they are taking a great effort to foster girls. These are certainly all promising opportunities. The proof of that is Maker Katie. Katie participated in the 'Women@NASA Girls and Boys Summer Mentoring Program'. Here is a project she built with the help of Red Pitaya.
5. Expose young girls to STEM
Teachers and professors should really strive to create environments that encourage girls to gain knowledge and to further develop their ideas and projects. Equal exposure to science and technology will enable the development of the talent of those individuals who are truly and genuinely interested in studying these fields. Science and technologyare and will continue to be important factors in what we are able to accomplish in our lives.
Subscribe to our newsletter
Related Posts
The Red Pitaya STEMlab units are renowned for their suitability for low-budget RF applications, and ideal for educational purposes. However, the requirements for additional...
Anyone who ever laid hands on a Red Pitaya unit knows why it's called the "Swiss army knife" board. They're about as versatile as they come, good for electronic engineers,...